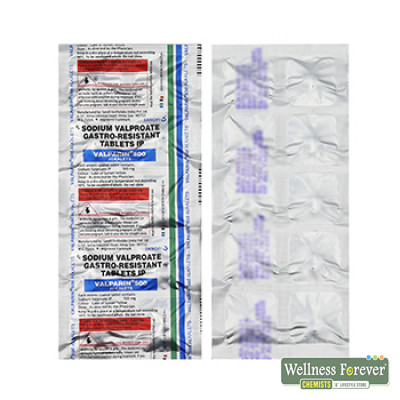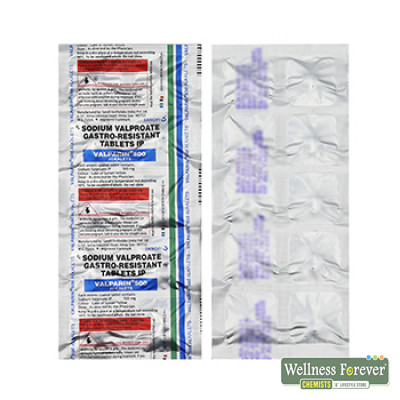 VALPARIN 500MG 10TAB
Brand: Wellness Forever
14 Reviews
Rs. 77.45

Prescription required on this product.
Support 24/7

Call us anytime

100% Safety

Only secure payments

Hot Offers

Discounts up to 80%
Key Ingredients
Sodium Valproate (500mg)
Storage- Keep it in cool and dry place below 30°C
Consume Type- Oral
Description
Valparin 500 Tablet belongs to a group of medicines called anti-epileptics. It is used to treat conditions such as epilepsy and bipolar disorder. It works by preventing extreme
mood swings and abnormal brain signals that trigger seizures (fits). It also helps in the prevention of migraines. Valparin 500 Tablet can be used alone or in combination with
other medicines. Epilepsy may occur as a result of a genetic disorders or an acquired brain injury such as a trauma or stroke, in which nerve cells activity in the brain is disturbed, causing
seizures. It controls seizures or fits by decreasing the abnormal and excessive activity of the nerve cells in the brain.
Benefits
Epilepsy
Mania
Migraine Prophylaxis
Directions for use
It should be taken as directed by your doctor and in the prescribed quantity.
Swallow it as a whole with a glass of water. Do not cut, break or chew themedicine.
It would be best if you take it at a fixed time for optimal results.
Keep it away from the reach of children
Do not use expired medicine.
Safety Precaution
Before taking this medicine tell your doctor if you have ever had kidney disease heart disease, liver problems.
Do not drive or operate any machine while taking this medicine since it may cause sleepiness.
Do not take VALPARIN 500MG if you are allergic (hypersensitive) to sodium valproate or any other ingredients in this medicine.
Monitor your weight during treatment with this medicine as it can cause weight gain.
It may cause cosmetic side effects such as increased hair growth on face, acne and thinning of hair. Talk to your doctor if this bothers you.
Talk to your doctor if you notice sudden mood changes or develop suicidal thoughts.
Do not stop taking the medication suddenly without talking to your doctor as it may increase the seizure frequency.
Some healthy tips to prevent seizures: Practice yoga every day .Get enough sleep at nighttime. Limit the use of screen time such as mobile/laptop. Take your medication on time.
Tell your Doctor about all the medications that you are taking.
Side effects
Diarrhea
Confusion
Headache
Muscle pain
Unusual tiredness and weakness
Sleepiness
Anxiety
Blurred vision
Yellow colored eyes or skin
Weight gain
Acid or sour stomach
Skin rash
Forgetfulness
Irregular menstrual periods
Ear pain
1. Can I drink alcohol while taking VALPARIN 500MG?
Answer- No, Consumption of alcohol is not recommended during treatment with this
medicine.
2. Can I take VALPARIN 500MG during pregnancy?
Answer- No, it is not recommended for use in pregnant women unless necessary.
Discuss the risks and benefits with your doctor.
3. What happens if I stop taking Valparin 500 Tablet?
Answer- You should not stop taking Valparin 500 Tablet suddenly. It should be
discontinued gradually. Stopping it suddenly may increase the chances of recurrence of
seizures. Always consult your doctor if you feel the need to stop taking this medicine.
4. For how long should I take Valparin 500 Tablet to cure my epilepsy completely?
Answer- Valparin 500 Tablet does not cure your condition; it only prevents the seizures
from occurring. Therefore, you will have to keep on taking it, maybe for years. Consult
your doctor if you face any problems while taking this medicine.
5. Can I take Sodium Valproate with other medicines?
Answer- Sometimes drugs are not safe when you take them with certain other drugs
and food. - Taking them together can cause bad side effects. - Be sure to talk to your
doctor about all the drugs you take.