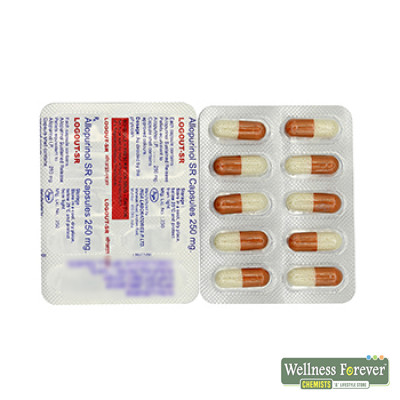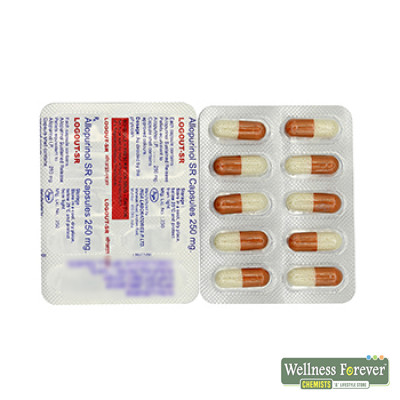 LOGOUT-SR 10CAP
Brand: Wellness Forever
14 Reviews
Rs. 94.60

Prescription required on this product.
Support 24/7

Call us anytime

100% Safety

Only secure payments

Hot Offers

Discounts up to 80%
Key Ingredients
Allopurinol (250mg)
Storage- Keep it in cool and dry place below 30°C
Consume Type- Oral
Description
Logout Tablet is indicated for the treatment and prevention of gout and increased uric acid levels in the body. It can be due to varied reasons such as kidney disorder or certain medications. Gout is a condition similar to arthritis where there is sudden pain in the joints accompanied by redness and swelling. These symptoms usually occur due to uric acid deposition in the joints. LOGOUT Tablet contains allopurinol, which works by inhibiting the enzyme xanthine oxidase, the enzyme responsible for the formation of uric acid. It stops uric acid formation inside the body without affecting the essential mechanism of cells and the body.
Key Benefits
Directions for use
It should be taken as directed by your doctor and in the prescribed quantity.
Swallow it as a whole with a glass of water. Do not cut, break or chew the medicine.
It would be best if you take it at a fixed time for optimal results.
Keep it away from the reach of children
Do not use expired medicine.
Safety Information
Tell the doctor about the medicines, supplements, or herbals you are currently taking or might take to avoid possible interaction.
If you have missed any dose, take it as soon as you remember. If it is time for the next dose, skip the missed dose and continue your regular dosing schedule.? Take plenty of fluids (2-3 litres) daily while on Logout 250mg Tablet.
Notify your doctor if you develop a rash. This could be a sign of allergy and should go away on discontinuing Logout 250mg Tablet.
When you first start taking this medicine, you might have more gout attacks. Do not stop the medicine on having an acute attack of gout as that could make an attack worse.
Your doctor may check your liver function before starting treatment and regularly thereafter. Inform your doctor if you notice yellowing of eyes or skin, dark urine, or stomach pain.
Avoid alcohol
Maintain a good diet and keep body weight in control
Side effects-
It is not necessary for everyone to experience the side effects. In case of any discomfort, consult your doctor.
Upset stomach
Diarrhea
Nausea
Skin rash
Drowsiness
Feeling or being sick
1. Why do I still get gout while taking Logout 250mg Tablet?
Answer- You may experience an increase in attacks of gout (severe pain, swelling, and
redness) however; these attacks usually become shorter and less severe after several
months of therapy. The possible reason could be gradual breakdown of uric acid
crystals, causing fluctuations in uric acid levels in the blood. To prevent such painful
events, your doctor may advise to take colchicine with Logout 250mg Tablet, as it can
suppress the gouty attacks.
2. How long does it take for Logout 250mg Tablet to lower uric acid levels?
Answer- It may take several months before you start feeling better or notice any
significant reduction in attacks of gout. Initially after starting Logout 250mg Tablet you
may experience gouty attacks. Continue taking the Tablet even if you do not experience
any considerable relief from the attacks. Do not stop taking Logout 250mg Tablet
without consulting your doctor. It may take up to years for the body to completely get rid
of all uric acid crystals.
3. Can I take Logout tablet along with contraceptive pil?
Answer- If you are taking Logout Tablet and it makes you vomit which can make your
contraceptive pill ineffective, and it could lead to unwanted pregnancy. If you are of
childbearing age, inform your doctor before starting it and use another form of
contraceptive like condoms.
4. Does LOGOUT Tab cause drowsiness?
Answer- Yes, Logout Tab can cause drowsiness in some people. It can even make you
feel dizzy or have a problem with coordination. It is advisable to avoid driving or operate
machinery to avoid any unpleasant side effects.