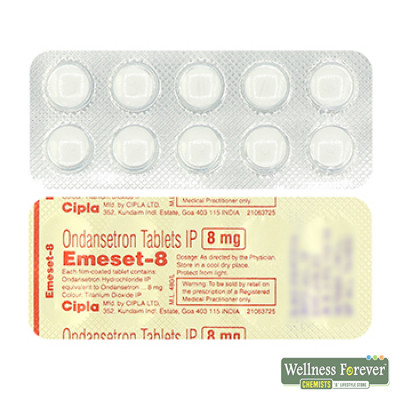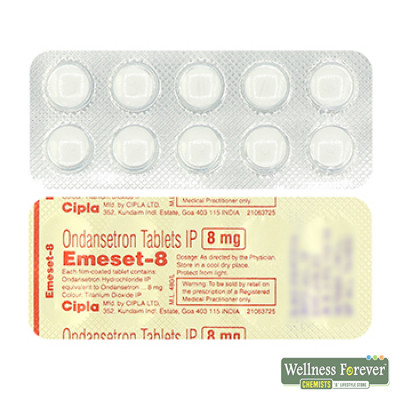 EMESET 8MG 10TAB
Brand: Wellness Forever
14 Reviews
Rs. 108.97

Prescription required on this product.
Support 24/7

Call us anytime

100% Safety

Only secure payments

Hot Offers

Discounts up to 80%
EMESET 8 MG 10 TAB is an antiemetic medicine commonly used to control nausea and vomiting due to certain medical conditions like stomach upset. It is
also used to prevent nausea and vomiting caused due to any surgery, cancer drug therapy or radiotherapy. EMESET 8 MG 10 TAB contains 'Ondansetron' that works by blocking the action of a chemical in the body (serotonin) responsible for causing nausea and vomiting. As a result, EMESET 8 MG 10 TAB prevents the sensation of nausea and vomiting caused due to conditions like surgery, cancer chemotherapy, pregnancy or motion sickness.
Benefits
 Treatment of Nausea
 Treatment of Vomiting
EMESET 8 MG 10 TAB Offer At SecondMedic:
We at Secondmedic ensures that you get good health products at affordable price. Hence, we give you best EMESET 8 MG 10 TAB Offer that you can get online.
If you are booking this product, then you can book EMESET 8 MG 10 TAB at Rs 10.89/- OFF.
Direction/dosage
 Take Emeset 8 MG Tablet as instructed by your doctor.
 Avoid eating heavy meals before taking ondansetron. Eat small snacks or light food.
 Drink water to avoid dehydration while taking this medicine.
 Do not use expired medication.
 It is fast-acting and starts working within 30 minutes.
 Take the medication at a fixed time.
Storage
 Store below 20-25°C and keep out of reach of children.
Precautions
 Avoid heavy meals and try eating small nourishing snacks throughout the day. Also, sip water regularly to help avoid dehydration.
 Tell your doctor about other drugs you are using, especially medicines to treat epilepsy, heart problems, cancer, and depression. These may affect, or be affected by, this medicine.
 If you are pregnant or breastfeeding, ask for advice from your healthcare team.
 Seek emergency medical treatment or contact the doctor in case of an overdose with Emeset 8 MG Tablet.
 Avoid taking Emeset 8 MG Tablet if you are previously allergic to it.
Side effects
Not everyone faces these side effects, and some of them did not even require medical attention. However, if a person faces serious side effects then they should immediately consult with their doctor.
 Headache
 Constipation
 Excessive sweating
 Chills
 Anxiety
 Dry mouth
 Fast or slow or irregular heartbeat
 Dizziness
FAQ
1. What are the side effects of Emeset 8 mg ?
Answer- The most common side effects of Emeset 8 mg are constipation, diarrhea, fatigue and headache. However, these are usually not bothersomeand resolve on their own after some time. Consult your doctor if these persist or worry you.
2. Is EMESET 8 MG 10 TAB  a steroid?
Answer- No, Emeset 8 MG is an antiemetic and not a steroid. It is prescribed for the prevention and treatment of nausea and vomiting which is commonly observed after surgery or due to cancer chemotherapy.
3. When should you take Emeset 8 Tablet?
Answer- Emeset 8 Tablet should be taken with a full glass of water, with or without food. It should be used exactly as per the dose and duration advised by the doctor. Usually, the first dose of Emeset 8 Tablet is taken before the start of your surgery, chemotherapy or radiation treatment.
4. What are the conditions in which Emeset 8 MG not recommended?
Answer- People with an irregular heartbeat (arrhythmia), and phenylketonuria (too much of protein phenylalanine in the blood) should not take it as it may cause serious conditions. The liver patient should not take more than 8 mg of Emeset 8 mg daily. Taking it with apomorphine can cause a sharp dip in blood pressure, even leading to death, so avoid its intake together.
5. Can I drive a car after taking a dose of Emeset 8 mg tablet?
Answer- Emeset-8 Tablet 10's may cause changes in the vision, so one should avoid driving or operating any machine that required mental alertness.