Prescription required as per the Government regulations.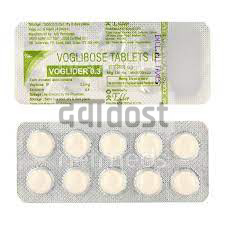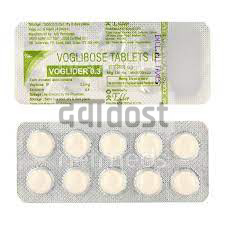 Voglider GM 2mg/500mg/0.3mg Tablet 10s
Rs. 75.00

Prescription required on this product.
Support 24/7

Call us anytime

100% Safety

Only secure payments

Hot Offers

Discounts up to 80%
VOGLIDER 0.3MG contain Voglibose which belongs to a group of medicine called competitive ? glucosisade inhibitors (?-GIs). It is indicated to improve postprandial hyperglycaemia in patients with type 2 diabetes mellitus. Type 2 diabetes mellitus is a condition in which your body does not make enough insulin, and the insulin produced does not work. When this happens, your body makes too much sugar (i.e. glucose) which gets built up in the blood resulting in serious health problems.
Your blood sugar will be monitored by your doctor periodically, with a regular blood test, including your blood sugar level and your hemoglobin A1C. Stay on exercise and diet as prescribed by your doctor while taking this medicine. Before taking this medicine tell your doctor if you have ever had kidney disease, heart disease, or pancreas problems. Pregnant or breastfeeding women should consult their doctor before taking this medicine.
It works by inhibiting the intestinal enzymes responsible for breaking complex sugars into simple sugars such as glucose. This prevents blood glucose levels from rising very high immediately after meals. Always take VOGLIDER 0.3MG exactly as your doctor has told you. This medicine must be taken start of a meal. Try to take VOGLIDER 0.3MG at the same time each day. It should be swallowed whole with water. Do not crush or chew the medicine.