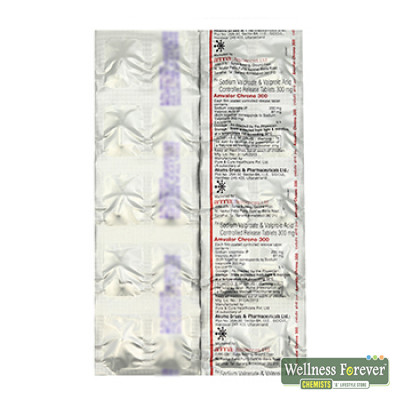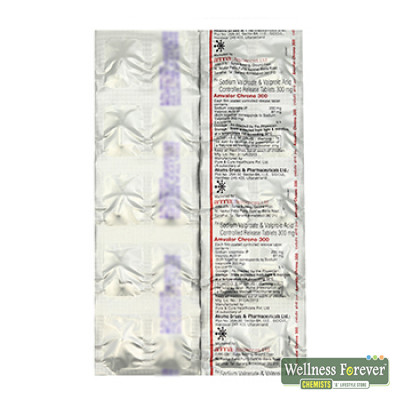 AMVALOR CHRONO 300MG 10TAB
Rs. 47.76

Prescription required on this product.
Support 24/7

Call us anytime

100% Safety

Only secure payments

Hot Offers

Discounts up to 80%
Key Ingredients
Sodium Valproate (200mg) + Valproic Acid (87mg)
Storage- Keep it in cool and dry place below 30°C
Consume Type- Oral
Description
Amvalor Chrono 300 Tablet is a combination of two medicines used to treat epilepsy, a neurological disorder in which there are recurrent episodes of seizures or fits. It controls the abnormal activity of the brain, relaxes the nerves and hence, prevents seizures or fits. Epilepsy is a brain-related disorder that can result in abnormal brain activity, uncontrolled movements, fits, seizures and loss of consciousness. It is also used for the treatment of manic episodes associated with bipolar disorder.
Key Benefits
Directions for use
It should be taken as directed by your doctor and in the prescribed quantity.
Swallow it as a whole with a glass of water with or after food. Do not cut, break or chew the medicine.
It would be best if you take it at a fixed time for optimal results.
Keep it away from the reach of children
Do not use expired medicine.
Safety Information
Tell the doctor about the medicines, supplements, or herbals you are currently taking or might take to avoid possible interaction.
If you have missed any dose, take it as soon as you remember. If it is time for the next dose, skip the missed dose and continue your regular dosing schedule.
Do not drive or do anything that requires mental focus until you know how Amvalor Chrono 300 Tablet affects you.
Avoid consuming alcohol when taking it, as it may cause excessive sleepiness or drowsiness.
Monitor your weight during the treatment as Amvalor Chrono 300 Tablet can cause weight gain have healthy food.
Your doctor may monitor the drug level, blood counts and liver function regularly throughout your treatment. Inform your doctor if you develop fever stomach pain, nausea or yellowing of your eyes or skin.
Do not take it if you are pregnant or planning to conceive or breastfeeding.
Do not stop taking the medication suddenly without talking to your doctor as it may increase the seizure frequency.
Side effects-
It is not necessary for everyone to experience the side effects. In case of any discomfort, consult your doctor.
Nausea
Vomiting
Weight gain
Loss of appetite
Gum swelling
Headache
Sleepiness
Tremors
Hair loss
Liver injury
1. Can Amvalor Chrono 300 Tablet be stopped when epilepsy symptoms are relieved?
Answer- No, Amvalor Chrono 300 Tablet should be continued as advised by the doctor.
Stopping it suddenly may cause the symptoms to reappear that too with increased
frequency. If any problems are experienced due to the medicine, consult the doctor for
re-evaluation.
2. Will a higher than the recommended dose of Amvalor Chrono 300 Tablet be more effective?
Answer- No, taking a higher than the recommended dose may not be more effective,
rather it may increase the chances of having serious side effects and toxicity. If the
recommended doses do not relieve your symptoms or there is an increased severity of
your symptoms, please consult your doctor.
3. Can I consume alcohol while taking this medicine?
Answer- Alcohol can affect the way this medicine works; avoid consuming alcohol while
taking this medicine.
4. Can I take Amvalor Chrono 300 Tablet during pregnancy?
Answer- You should not take Amvalor Chrono 300 Tablet during pregnancy or if you are
planning to have a baby. This medicine may cause serious harm to your baby. If you
become pregnant while taking this medicine, discontinue the treatment and consult your
doctor immediately.