Prescription required as per the Government regulations.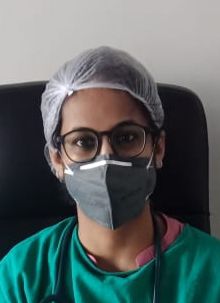 Dr. Miti A. Shah
Pulmonologist with 8 years of experience
8 years Experience
0 Reviews
Dr. Miti A. Shah is a trusted Pulmonologist in Sion, Mumbai. She has a wide range of experience in treating various respiratory ailments and has worked in Pulmonology in prestigious institutes like Lilavati Hospital, KEM and Sion Hospital. Doctor Miti has special interest in Asthma, COPD, Lung Fibrosis, Sleep Apnea, Pediatric bronchoscopy, Pediatric respiratory ailments, MDR/XDR TB, Advanced Pulmonary function testing. Procedures like ICD inse Read More...
FAQ
Q1. How can I take Dr. Miti A. Shah appointment?
A. You can take Dr. Miti A. Shah online through Secondmedic for phone call, text message and video call with the doctor.
Q2. What is Dr. Miti A. Shah education qualification?
A. Dr. Miti A. Shah has the qualification of MBBS, DNB (respiratory diseases), Fellowship in pulmonary critical care, Certificate course in Pediatric Respiratory Disorders
Q3. What is the experience of Dr. Miti A. Shah?
A. Dr. Miti A. Shah have 8 years of experience in specialty.
Q4. What is the specialty of Dr. Miti A. Shah?
A. Dr. Miti A. Shah specialty is Respiratory/Chest Medicine,
User Reviews
Please login to submit your review.